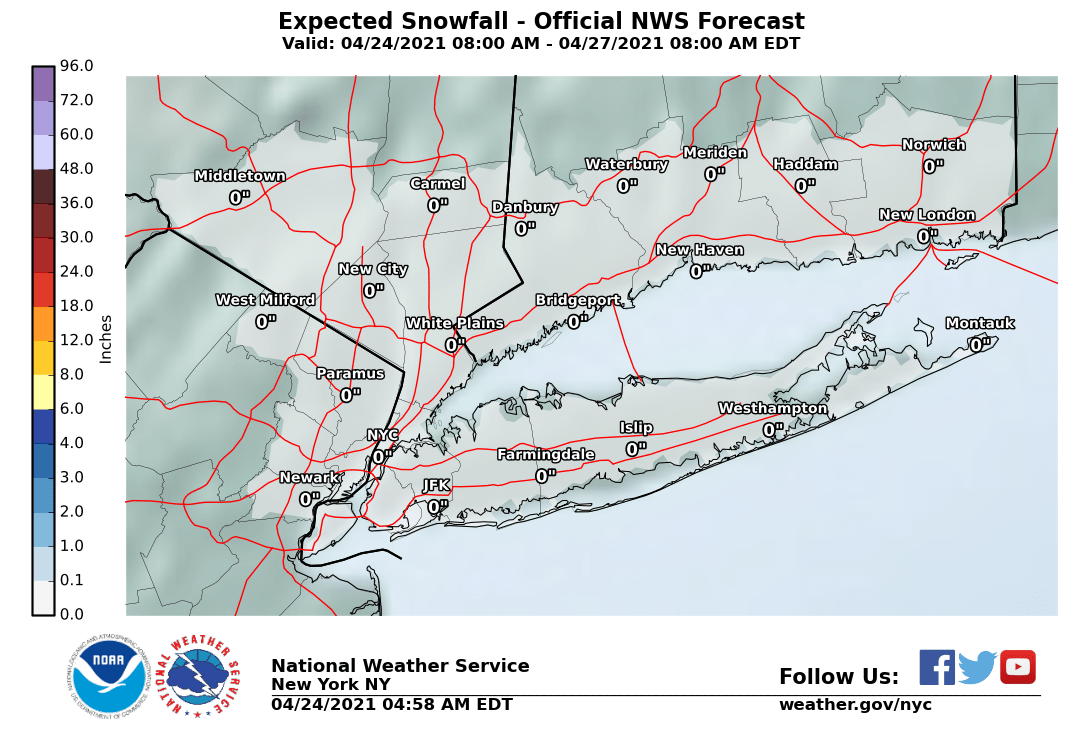 URGENT - WINTER WEATHER MESSAGE
National Weather Service New York NY
322 PM EST Fri Dec 8 2017

CTZ005-006-009-NJZ006-104-106-108-NYZ070>075-176>179-091100-
/O.EXT.KOKX.WW.Y.0001.171209T0900Z-171210T0900Z/
Northern Fairfield-Northern New Haven-Southern Fairfield-Hudson-
Eastern Bergen-Eastern Essex-Eastern Union-Northern Westchester-
Southern Westchester-New York (Manhattan)-Bronx-
Richmond (Staten Island)-Kings (Brooklyn)-Northern Queens-
Northern Nassau-

Southern Queens

-Southern Nassau-
322 PM EST Fri Dec 8 2017

...

WINTER WEATHER ADVISORY NOW IN EFFECT FROM 4 AM SATURDAY TO
4 AM EST SUNDAY

...



* WHAT...Snow expected. Plan on slippery road conditions. Total
  snow accumulations of 3 to 5 inches are expected, with locally
  6 inches possible in Southwestern Connecticut.

* WHERE...Portions of northeast New Jersey, southern Connecticut
  and southeast New York.

* WHEN...From 4 AM Saturday to 4 AM EST Sunday.

* ADDITIONAL DETAILS...Be prepared for reduced visibilities at
  times. Snow accumulation on pavement will be more likely in the
  afternoon and evening.



PRECAUTIONARY/PREPAREDNESS ACTIONS...

A Winter Weather Advisory for snow means periods of snow will
cause primarily travel difficulties. Be prepared for snow covered
roads and limited visibilities, and use caution while driving.
The latest road conditions for the state you are calling from can
be obtained by calling 5 1 1.