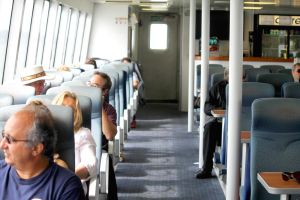 Passengers on a Manhattan-bound ferry from Rockaway.
Posted:
Thursday, June 26, 2014 2:59 pm
.
"Although the Rockaway ferry service was not included in the final city budget, our community will not give up the fight," said Assemblyman Phil Goldfeder (D-Rockaway Park). "I am severely disappointed in Mayor de Blasio and the Economic Development Corporation for ignoring the transit needs of southern Queens and Rockaway families. Like every other borough in the city, we deserve an affordable, efficient and reliable means of transportation. The ferry has been a lifeline for our families and small businesses after the devastation caused by Sandy and it must remain permanent."
State Sen. Joe Addabbo Jr. (D-Howard Beach) said he believes the fight for a permanent ferry is not over, but is nevertheless disappointed.
"I believe in a budget of $75 Billion, the city can find the fractional money needed to keep the ferry afloat permanently," Addabbo said.
Borough President Melinda Katz noted that Rockaway residents already have limited access to transportation, and must pay a toll to get off the peninsula, She further noted that Brooklyn and Manhattan have multiple ferry stops and more transportation options than the Rockaways.
"I never argue to limit anyone's access to ferry service, but I believe Queens needs equity," she said.
The ferry, operated by Seastreak, is due to continue through October through money allocated by Mayor de Blasio in his executive budget, but beyond that no extension of service is funded.
The service began as a temporary service after Hurricane Sandy to replace the A train, which was shut down for seven months after the storm due to the destruction of the tracks over Jamaica Bay, It was extended multiple times and residents and officials on the peninsula said the service has become popular for commuters seeking an alternate route to Manhattan.
It connects Beach 108th Street with Wall Street with a stop in Sunset Park, Brooklyn that was added after the MTA shut down the R train's Montague Street Tunnel between Manhattan and Brooklyn, also damaged in Sandy.
But Kate Blumm, a spokeswoman for the EDC, said the service is fully funded through October and the city would continue to look for dedicated funding.
"As part of the Mayor's Executive Budget, the City added funding for a fourth service extension to allow operation through October, supporting both Rockaway commuters and Brooklyn residents during the R train outage," she said in an email. "We will continue to examine ridership and seek a sustainable funding stream that can support the $25-$30 subsidy per trip — the highest by far of any public transportation in the city."